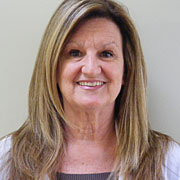 Director of Physical Therapy
A lifelong resident of Southwest Michigan, Tami enjoys working with her patients on an individual basis to help restore the ability to function each day with drastically reduced or no pain.
She completed her undergraduate studies at Andrews University in Berrien Springs and continued to Loma Linda Medical University in California where she completed her degree as a Registered Physical Therapist.
After college, Tami returned home to begin her professional career; first at Lee Memorial Hosptal in Dowagiac and later Lakeland Home Care in Niles specializing in orthopedics.
Dr. Drew approached Tami and opened The Physical Therapy Center at Michiana Spine in April, 2008. Thanks to Tami's guidance and efforts, our PT Center expanded to Kalamazoo in 2014. Tami makes certain her staff keeps up with the latest techniques and treatments to offer Michiana Spine patients unparalled care.
Tami and her husband are very proud of their three children and dote on their four grandchildren.